Recommended Global Pharmaceutical Sciences Conferences
World Pharmacovigilance 2018
Sessions/Tracks
We solicit your gracious presence at the upcoming 11th Annual Congress On Pharmacovigilance & Clinical Trials scheduled to happen during 2018 in Orlando, USA focusing on the advancements in emerging research and technologies in pharmacovigilance, clinical trials and risk management.
Theme Track 1: Pharmacovigilance and Drug Safety
Pharmacovigilance activities related to collection, detection, assessment, monitoring, and prevention of adverse effects with pharmaceutical products and the safety surveillance and risk management. PV are to enhance patient care and patient safety in relation to the use of medicines; and to support public health programmers by providing reliable, balanced information for the effective assessment of the risk-benefit profile of medicines. pharmacovigilance plays a critical role in minimizing the risk of any harm that may come to patients by safety surveillance, risk management and identifying the hazards associated with pharmaceutical products.
Track 2: Pre-Clinical and Clinical Trials
Pre-Clinical and Clinical Trials aim at testing the potentiality of medicinal therapeutic efficacy of pharmaceutical products on cells and animals. Clinical study design aims to ensure the scientific validity and reproducibility of the results. Clinical trials is the propagative studies conducted on patients using of patient data, disease mechanisms, therapeutic interventions and epidemiology, patient centric approach and benefit risk management. Pre-Clinical trials are essential before a company starts performing the clinical trials and helps in calculating toxicity, efficacy and collecting pharmacokinetic data. Pre-Clinical and Clinical Trials involve intervention of human subjects to study the cause-and-effect relationship between a medical intervention and a health outcome. The perfect outcome of clinical trials is minimizing risks; enhance benefits, and optimal use of an intervention of therapeutic drugs.
Track 3: Pharmacodynamics and Pharmacokinetics
Pharmacokinetic and pharmacodynamic parameters become important because of the association between host drug concentrations, microorganism eradication, and resistance. Since long scientific advances allowed scientists to come together with the study of physiological effects with biological effects. This scientific exchange enables scientists from academia, industry, and regulatory agencies to improve/develop better therapies while jointly advancing their professional development and respective disciplines. The Pharmaceutical industry's long successful strategy of placing big bets on a few molecules, promoting them heavily and turning them into blockbusters worked well for many years, but its R&D productivity has now plummeted and the environment's changing.
Track 4: Clinical Data Management
Clinical data management is critical phases in clinical researches, which generates high-quality and statistically sound data from clinical trials. The ultimate goal of CDM is to assure that data support conclusions drawn from research. It also supports the conduct, management and analysis of studies across the spectrum of clinical research as defined by the National Institutes of Health (NIH). The ultimate goal is to assure that data support conclusions drawn from research, which protects public health and confidence in marketed therapeutics.
Track 5: Adverse Event Reporting
Pharmacovigilance activity is commonly associated with adverse event reporting which consumes a significant amount of resources for drug regulatory authorities in pharmaceutical industries. Adverse event reporting involves the data entering, case assessment, documentation, receipt and triage. This AE involves the spontaneous reports from the drug regulatory authorities. AE plays a key role in assessing the risk-benefit profile of a given drug. Adverse event leads to spontaneous reporting, clinical reporting and periodic reporting.
Track 6: Clinical and Medical Case Reports
Clinical and medical case report is a method for conveying something new that has been learnt from clinical practice. It could be around a surprising or beforehand obscure condition, an uncommon presentation or difficulty of a known illness, or even another way to deal with dealing with a typical condition. A case report gives the point by point report of indications, signs, conclusion, treatment, and follow-up of an individual patient. Case reports may contain a statistic profile of the patient and assume significant part in the field of restorative clinical research and prove based pharmaceutical. Besides, case reports can serve as an early cautioning signal for the antagonistic impacts of new solutions, or the presentations of new and rising ailments.
Track 7: Pharmacovigilance Data Base Management
Pharmacovigilance data base management system (DBMS) is a computer software application that interacts with the user, other applications, and the database itself to capture and analyze data. A general-purpose DBMS is designed to allow the definition, creation, querying, update, and administration of databases. Well-known database management includes Argus, Aris G, Oracle AERS, Clintrace, PVNET, repClinical, Vigilanz Dynanic Monitoring System are often classified according to the database model that they support; the most popular database of Pharmacovigilance.
Track 8: Clinical Trial Regulatory Challenges
Clinical Trials investigation of medication endorsements amid the most recent three decades is made to figure out if a decrease in new medication improvement has for sure happened. The paper additionally looks at the issue of new medication improvement. Alternate issues that this paper examines incorporate rising rivalry from non-specific medications, FDA directions, troubles in concocting new particles by pharmaceutical organizations, and a developing pattern towards inclination for biologic medications.
Track 9: Data Quality Management and Analysis
Data quality management in pharmacovigilance can be relied only on information gathered from the collection of individual case safety reports and other pharmacoepidemiological data. The quality of a pharmacovigilance data system can be defined as a measure of excellence or a state of being free from defects, deficiencies and significant variations and the data quality management includes all the activities that organizations use to direct, control and coordinate the quality of data. The resulting data output is analysed and assessed. Finally, conclusions are drawn and decisions made. Several functioning, well documented and transparent quality management systems will assist in data collection management and output production and in addition will help the pharmacovigilance end users and patients.
Track 10: Design of Clinical Studies and Trials
Clinical review configuration is the definition of trials and tests, and in addition observational reviews in restorative, clinical and different sorts of research including people. Clinical research are normally led in four stages, every stage is considered as particular trial and, after finish of a stage, examiners are required to present their information for endorsement from the FDA before proceeding to the following stage. By partaking in clinical trials, members cannot just assume a more dynamic part in their own particular social insurance, yet they can likewise get to new medications and help other people by adding to therapeutic research. Sorts of Study Designs Meta-Analysis, Systematic Review, Randomized Controlled Trial, Cohort Study, Comparative Study, Case-control Study, Cross-sectional review, Case Reports and Series, Animal Research Studies, Test-tube Lab Research.
Track 11: Clinical Research
Clinical research provides the building block upon which other types of biomedical research. Pre-clinical Research involves the evaluation of therapeutic intervention in humans and animals. Candidates for entry into clinical trials can then be selected based on their effectiveness and safety. All drugs require data from various toxicological preclinical studies to support their potential safety in humans before clinical trials before trail begin.
About Conference
Conference Series organizing gratifying Pharmaceutical conferences, welcomes you to attend the 11th Annual Congress on Pharmacovigilance and Clinical Trials to be held during 2018 in Orlando, Florida, USA focuses on the Safer Drug Innovations & Critical Considerations in Clinical Trials
The field of Pharmacovigilance is growing rapidly and its development is making tremendous impacts in medical sciences and pharmaceuticals. Pharmacovigilance emphasizes on how the importance and significance can be gauged by the fact that it has made huge advancements over the course of time and is continuing to influence various sectors. .
Why to attend???
With members from around the world focused on learning about Pharmacovigilance and its advances; this is your best opportunity to reach the largest assemblage of participants from the Pharmacovigilance community. Conduct presentations, distribute information, meet with current and potential scientists, make a splash with new drug developments, and receive name recognition at this 2-day event. World-renowned speakers, the most recent techniques, developments, and the newest updates in Pharmacovigilance are hallmarks of this conference.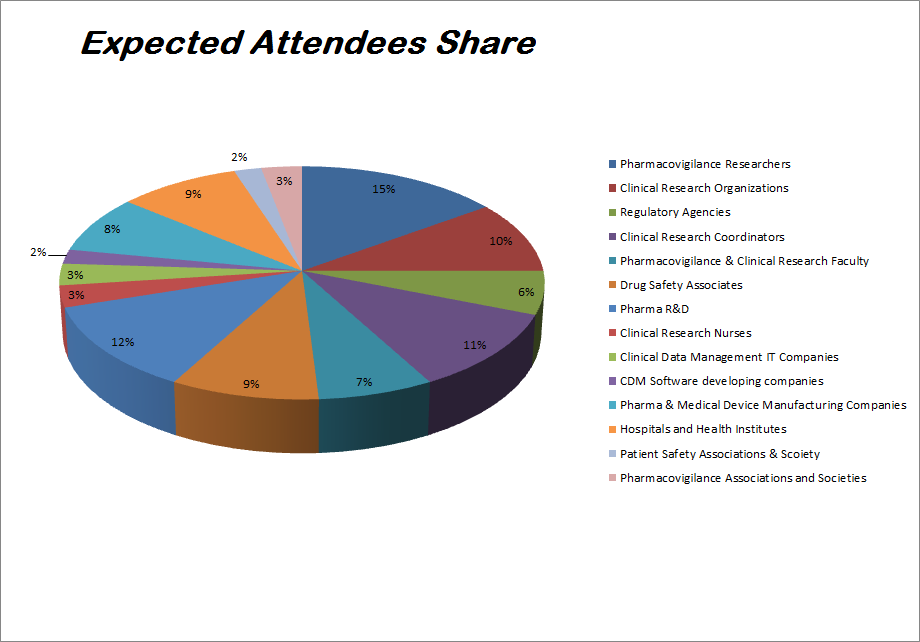 Market Analysis
The Significant need of Pharmacovigilance leading by Exaggerating regulatory compliance, efficient maintenance of product life cycle and the growing need of prompt patient reporting. Pharmaceutical companies are increasingly entering into long term Agreements with CROs and BPOs for performing Pharmacovigilance activities initiating from drug discovery phase to post market surveillance. The following report Explores the global Pharmacovigilance market based on clinical trial phases, reporting, service and geography Methods. In terms of clinical trial phases this market is studied for Pharmacovigilance in preclinical studies, phase I trial, phase II trial, phase III trial, and phase IV. Spontaneous reporting, intensified ADR reporting, targeted spontaneous reporting, cohort event monitoring, EHR mining are the reporting methods analyzed in this report. Besides, In-House Pharmacovigilance and contract outsourcing are the Pharmacovigilance services considered in this Analysis. Global Pharmacovigilance market Collection of North America, Europe, Asia-Pacific, Middle East and North Africa, and Latin America are the regional markets. This Analysis also includes country level analysis for the national markets that hold major hold in the respective regional markets.
This Market Analysis Report Considering the 2015 as the base year and providing Market estimations and forecast for the period 2014 to 2022 for all the mentioned segments along with their respective Compounded Annual Growth Rate (CAGR %) for the period 2016-2022.This Analysis Providing Quantitative as well as Qualitative market assessment information such as market dynamics: drivers, challenges and future prospects. This Analysis includes competition assessment tools known as fractal map analysis for analyzing the market competition and attractive investment proposition. The Whole report here concluding with Highlighting the company profile key information of major participants operating in global pharmacovigilance market.
Pharmaceutical companies adopted the In-house pharmacovigilance and contract outsourcing as major Reporting method services in pharmacovigilance. The process is often being outsourced to contract outsourcing companies and it is anticipated that the same trend will continue through the forecast period. Contract outsourcing segment takes over one half of the market share and is anticipated to progress at a faster CAGR than in-house pharmacovigilance. Contract outsourcing is observed to be a faster and cost effective option; the CROs resourced are valued in the market for their core expertise in the respective processes. Furthermore, featured advantages such as reduction in overhead expenditures, focusing on core competencies, and workforce streamlining also has been urging pharmaceutical companies to opt for contract outsourcing. In-house pharmacovigilance system will still remain in practice majorly opted by large pharmaceutical companies for their high profile drugs and by small players for cost containment purposes. Preclinical studies, phase I, phase II, phase III, phase IV trials or post marketing surveillance are the drug development phases that cumulatively make the global pharmacovigilance market.
Among the mentioned segments, phase IV or post market reporting takes the largest market share in 2016. This stage is characterized by prompt collection of post market development, adverse events, and examination and monitoring of associated hazards. Growth in the number of novel drugs being introduced in the market has necessitated the need for post marled surveillance thus propelling phase IV pharmacovigilance segment. In addition, necessity for risk assessment studies during late stage drug development, decision on precise medication and establishment of safety data are the prime factors that constitute to the rapid market growth of phase III pharmacovigilance segment.
Increasing drug consumption coupled with rising chronic diseases prevalence will drive global pharmacovigilance market size. Over 6.4 billion drugs were dispensed in 2010 in the U.S alone. Rising prevalence of cardiovascular diseases, respiratory disorders, oncology and diabetes have increased global demand for medicine.
Increasing number of adverse drug reactions (ADRs) imposes a significant burden on healthcare system by extending patient morbidity under chronic condition. Adverse drug events accounted for over 5% of annual hospitalization cases. This has led to soaring demand for pharmacovigilance services, thus expanding the global pharmacovigilance market size.
Pharmacovigilance services cater to drug development activities ranging from its discovery to commercialization. Pharmaceutical companies are increasingly collaborating with BPOs and CROs to identify ways for reduction of cost and operational expenses. Outsourcing helps achieve better monitoring through regulatory compliance, higher quality, better productivity, and improved strategic outcomes, thus propelling overall pharmacovigilance market growth.
Stringent regulations regarding drug safety approvals and mandatory clinical trials management guidelines should boost adoption rate of pharmacovigilance activities. Furthermore, strict requirements for keeping electronic medical records (EMR) will fuel pharmacovigilance market trends.
Increasing patient awareness regarding drug safety and creation of WHO approved national pharmacovigilance centers worldwide will support expansion of pharmacovigilance market size. However, risks associated with data security, web-based drug sales, information about drug side effects, and dearth of skilled professionals should restrain pharmacovigilance market growth.
Past Conference Report
Pharmacovigilance Congress 2016
Pharmacovigilance Congress 2016 past Conference Report
Thanks to all of our wonderful Speakers, Conference Attendees and Sponsors; Pharmacovigilance Congress 2016 Conference was our best ever!
The "6th Pharmacovigilance Congress 2016", hosted by the Conferenceseries was held on September 28-30, 2016, Toronto, Canada.
Conferenceseries would like to convey a great appreciation to Keynote speakers Gamal Hussein, Aleksander Skotnicki, Ossama Roshdy, Panjasaram Naidoo.
The conference had multiple sessions, Keynote presentations, panel discussions and Poster sessions. We received active participation from various scientists, researchers, students and leaders from the field of Pharmacovigilance who made this event successful.
Various sessions were carried out with multiple presentations from speakers all around the world. Major Sessions to be discussed were:
• Drug Safety
• Preclinical and Clinical Trials on Various Disorders
• Pharmacy Practices and its Challenges
• Adverse Drug Reactions
• Case Report in Clinical Trials
• Toxicology
• Pharmacovigilance Risk management plans and new risk- benefit analysis tools
• Pharmacokinetics and Pharmacodynamics
• Regulatory Affairs
• Clinical Data Management
Honourable guests and Keynote Speakers supported this event with sustainable excitement for grand success of this prominent conference. Also it is our pleasure to announce next 11th Annual Congress on Pharmacovigilance & Clinical Trials which will be held during 2018 in Orlando, USA with the theme "Safer Drug Innovations & Critical Considerations in Clinical Trials".
We hope your favorable support will make next conference also one more grand success.
For more details about World Pharmacovigilance 2018 visit
http://clinicaltrials.pharmaceuticalconferences.com/
Past Reports
Proceedings
Gallery
To Collaborate Scientific Professionals around the World
Conference Date March 28-29, 2018
For Sponsors & Exhibitors
Useful Links
Past Conference Report