10th International Conference on
Clinical Research & Clinical Trials
Amsterdam, Netherlands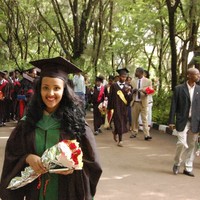 Bahir Dar university , Ethiopia
Title: Clinical practice competency and associated Factors of undergraduate health science students in Bahir Dar University, Bahir Dar, Ethiopia
Biography
Biography: Asteray Ayenew
Abstract
Background: competency in Clinical practice is a platform for health science students, which has a direct relationship with improving the quality of care provision. Graduates have problems in doing tasks in clinical practice after receiving necessary and adequate theoretical and practical sessions in school life, which compromise the goals of the health care system. Thus the aim of this study was to assess clinical practice competency and associated factors for Undergraduate health science student in Bahir Dar University.
Methods: Institutional based Cross-sectional study was conducted in Bahir Dar University College of medicine and health science students from April 20-May 20/ 2019, by pre tested structured questioner. Simple random sampling was used to select the study participants. Data were entered using Epi Info-7 was exported and analyzed by SPSS-23. Descriptive analysis was done and association of variables were declared at p-value of <0.05.
RESULT: clinical practice competency was 65%. Students with clinical instructor feedback (AOR=1.840, 95%CI:1.021-3.314), sufficient cases in practice area (AOR=1.817, 95% CI :1.014-3.254), clinical instructor spent enough time at clinical site (AOR=3.627,95% CI :1.242, 12.694), integrations of learning domain (AOR=2.199,95% CI :1.152-4.196) and Staff encourage students while practicing (AOR=1.91395%CI: 1.067, 3.432) were the determinant factors for clinical practice competency.
Conclusion: the competency of Clinical practice was low. Clinical instructor feedback, sufficient cases at clinical practice area, integrations of learning domain, Staff encourage students while practicing and instructor spent enough time for mentoring were found to be predictor of Clinical practice competency. So placing students at clinical site having sufficient cases, instructors to be found in practice area and giving constructive feedback, mentoring and coaching students at practice site might have crucial role to enhance clinical practice competency. Additionally, developing a system to control instructor's who miss practice schedule and integrating the clinical staff to academic staff and giving credit for clinical staff is very is important to improve students competency.